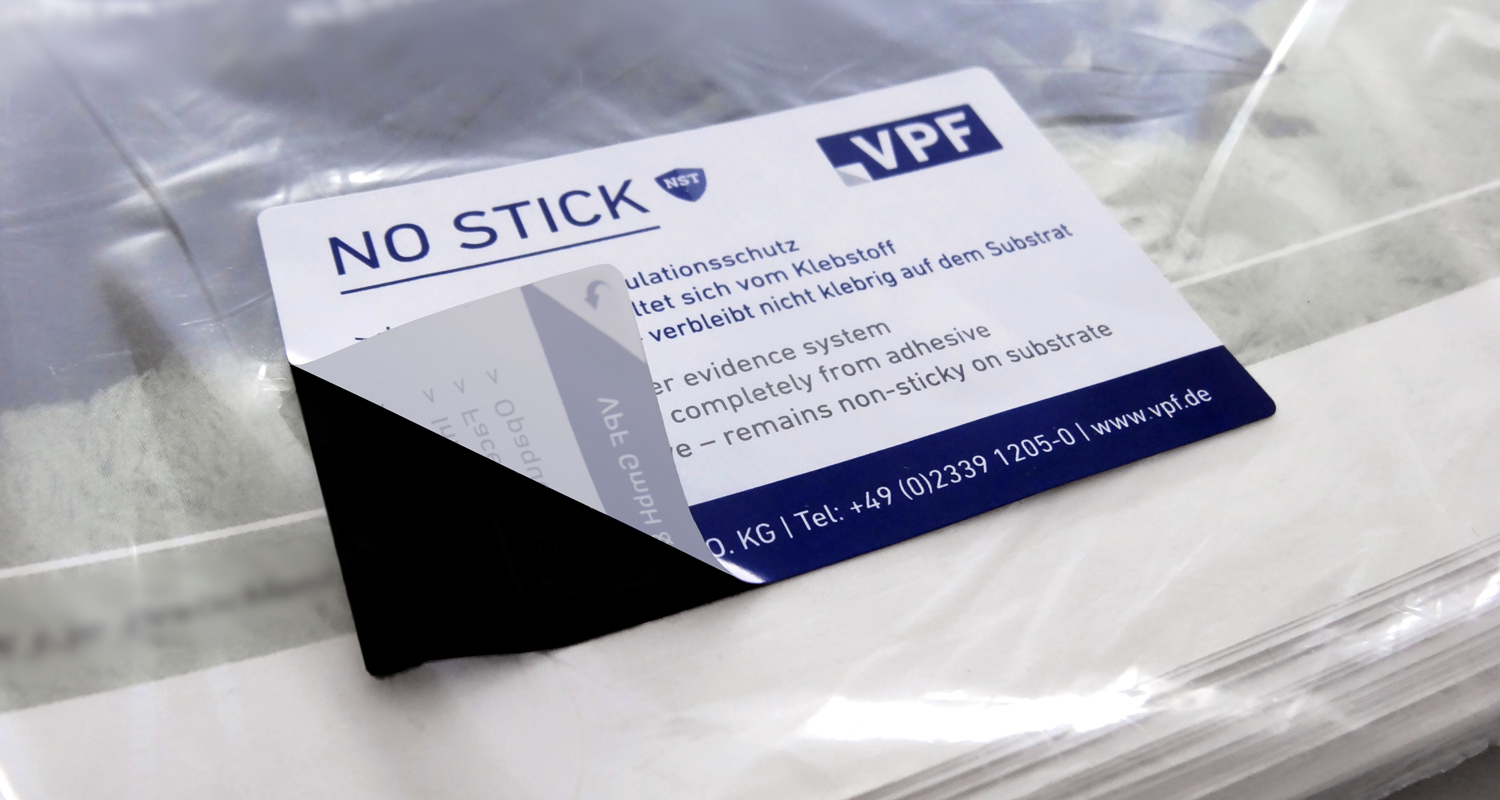 Photo: When tampered with, the novel No-stick paper-based security material detaches completely from the adhesive, leaving an opaque, absolutely dry layer of adhesive, reliably keeping hidden any information that has been covered.
VPF PRESENTS A BROAD VARIETY  OF NEW PRODUCTS AT LABELEXPO EUROPE 2015
July 2015
Innovative inkjet, security and UL-certified labelstocks
VPF GmbH & Co. KG, the Germany-based specialist in self-adhesive materials and coatings, will be exhibiting at LabelExpo 2015 in Brussels (Hall 5, Stand A34) with the innovativeness and versatility it is known for in the market. The main focus will be on a large variety of innovative specialty solutions in water-based inkjet printing, unique new developments in security materials, and a new established range of materials for UL-certified label applications.
Unique No-stick material for security applications
Tamper-proofing, anti-counterfeiting security, guaranteed authenticity. At the LabelExpo, VPF will be presenting its comprehensive range of 11 self-adhesive security materials for applications aimed at protecting your product. Offering a choice between Void, Checkerboard or Diamond patterns, in splittable or destructible versions, VPF is sure to have the right film-based product for your application.
As an absolute market novelty in innovative tamper-proofing based on a simple paper label, VPF is unveiling its newly developed No-stick security material. Any attempt to detach the No-stick self-adhesive label from the substrate causes the paper to split from the adhesive, leaving an absolutely dry, non-tacky coating on the substrate. Thanks to the use of an opaque adhesive, this unique paper-based security labelstock is excellently suited for making sure that information which has been labelled over to obscure it will remain reliably hidden.
Innovative inkjet solutions for greater design freedom
Stand-alone printing systems using water-based and pigment-based inks are becoming increasingly widespread, both for flexible in-house imprints and for small print runs of high-quality labels. As a technology and innovation leader for inkjet self-adhesive materials, VPF will be presenting at the LabelExpo three additional film products enabling completely new application possibilities. The extremely thin, clear glossy PET film 50 µ (VPF 70268) was specially developed for labelling of very small radiuses. Furthermore, as an overlaminating film it can be used to give an inkjet-capable finish to practically any web material even in very small quantities. A 70 µ PET film (VPF 70121) in silver semi-gloss was specifically designed for nameplate applications. And VPF has augmented its extensive inkjet PP portfolio by an 80 µ glossy silver PP film (VPF 60265).
Assortment for UL-certified self-adhesive labels
Self-adhesive materials certified by UL (Underwriters Laboratories) are absolutely essential for the export of electronics or automotive articles to the USA or Canada. Especially for this purpose, VPF has established a well-matched assortment of PET films on the market which can meet the needs of many different industrial labelling applications.
The portfolio of UL-certified self-adhesive materials that will be presented at the trade fair includes four PET films (clear, silver, matt white and glossy white), all of which come with a high performance UV acrylate HM 710 UV at an increased coat weight of 25 g/m2 and a white Glassine liner B700-473. All facestocks are excellently suited for thermal transfer printing and available in very small minimum order quantities of 200 m².
Visit us in Brussels at the LabelExpo in Hall 5, Stand A34.
About VPF

Since 1967, VPF has been supporting and shaping the European market for self-adhesive materials and coatings as an idea generator, partner and problem solver. Expertise and a strong focus on customer and market needs are the foundations on which the company develops innovative solutions. With state-of-the-art production facilities, dedication and flexibility, VPF turns these solutions into quality products for paper and film applications of all kinds.
Company contact
Dr. René Roleff
VPF-Veredelungsgesellschaft mbH für Papiere und Folien & Co. KG
Harkortstraße 14 – 16, 45549 Sprockhövel (Germany)
Phone +49 (0)2339 1205-32, rene.roleff@vpf.de
Press contact
Jürgen Sterzenbach
SINNDESIGN Unternehmenskommunikation
Hartblick 5, 51429 Bergisch Gladbach (Germany)
Phone +49 (0)2204 205443, vpf@sinndesign.de