Environmental protection and sustainable business have become an integral component of the modern economic cycle. Consequently, VPF has been registering a growing demand in the area of adhesive bonds for some time now for sustainable packaging solutions of primarily consumer-oriented end use.
As a result, sustainable face materials were qualified during extensive test coatings and can now be combined with various adhesives and backing papers from the proven VPF modular assortment system. The new face materials include solutions for both, paper and foil, for all printing processes with a minimum quantity of 1.000 m2 for all products. Out of a large number of face materials available on the market, VPF qualified materials with an especially sustainable character. Aspects such as recyclability, compostability and available certifications played as much of a role during the qualification process as the origin and the associated logistical distances (CO2 impact).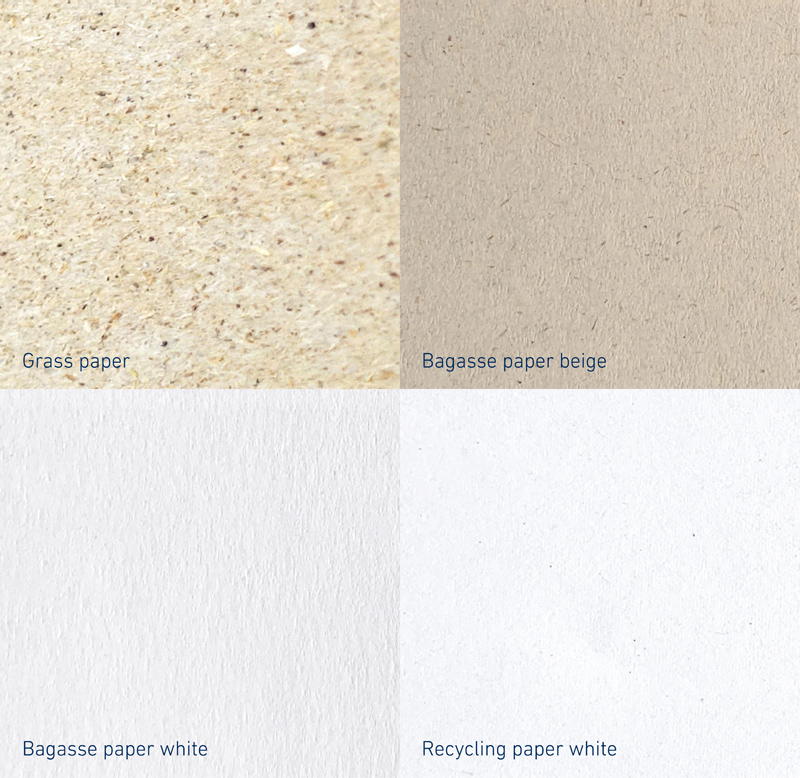 During the production of grass paper, a significant volume of normal grass fibers are used as regenerative raw materials while plant-based, non-edible harvest remains are used for bagasse paper (for example from crop plants such as rice or sugar cane). This approach significantly contributes to conserve resources and protect the environment.
Furthermore, the materials are also suitable for label printing for sophisticated products in the food, beverage and cosmetics industries due to their high ecological quality.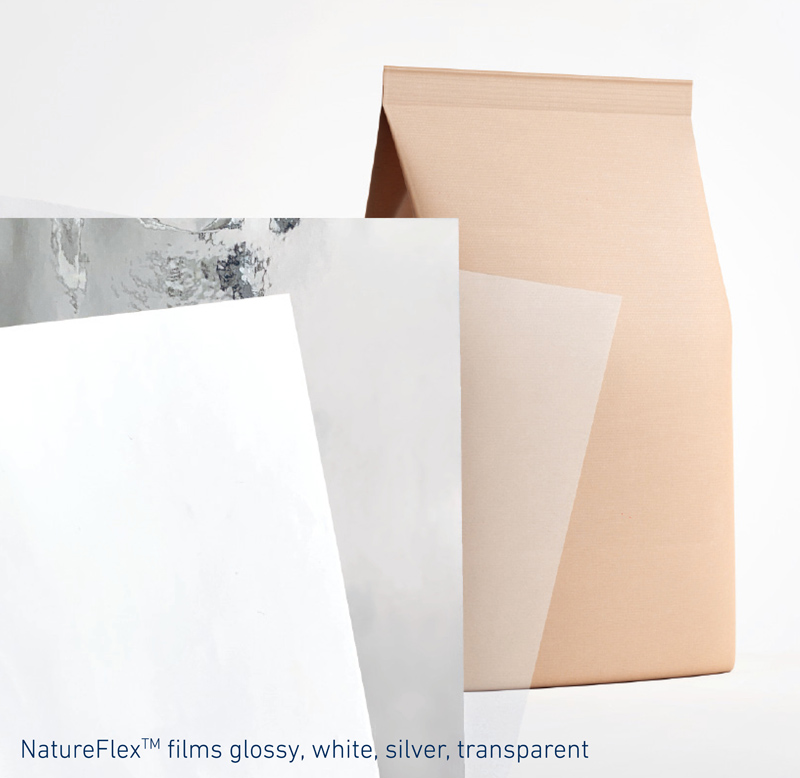 NatureFlexTM films are based on renewable raw materials from cellulose (wood cellulose from sustainably controlled plantations). The films are available in white, transparent and silver, are oil and grease resistant and have excellent printing properties.
Due to its high-quality appearance, this film is ideal for labeling fruit and vegetables, drinks and cosmetics. NatureFlexTM films are compostable both on an industrial scale and at home.
SUSTAINABLE PAPERS
| new | ART. NO. | DESCRIPTION | SURFACE | GRAMMAGE | DATA SHEET |
| --- | --- | --- | --- | --- | --- |
| | 10945 | Grass paper (conventional, laser and inkjet printable) | matt | 90 g | PDF ⤓ |
| | 20722 | Natron paper brown (100 % Waste Paper) | matt | 70 g | PDF ⤓ |
| | 10930 | Bagasse paper, beige (basis: plant waste) | matt | 70 g | PDF ⤓ |
| | 1353951 | Recycling paper, white | matt | 80 g | PDF ⤓ |
| | 10664 | Silphie paper | matt | 100 g | PDF ⤓ |
We offer these sustainable print media as self-adhesive labelstock, optionally combined with an adhesive of the following modern, water-based acrylate dispersions:
WATERBASED ACRYLATE DISPERSION ADHESIVES
ART. NO.
APPLICATION WEIGHT
PROPERTIES / APPLICATIONS
DATA SHEET
Permanent 958

10 – 30 g/m2

Universal adhesive for paper and foil, certified for direct food contact, very good shear strength and adhesive power.

PDF ⤓
Permanent 980

10 – 30 g/m

2

Allrounder adhesive for filmic labels, with high shear strength as well as heat resistance. Complies with European Toy Safety Standard EN 71-3. ISEGA approval for direct food contact applications. High transparency. Also available as luminescent version.

PDF ⤓
Permanent 931

10 – 30 g/m

2

For paper and foil, certified for direct food contact, highly suitable for tight radii.

PDF ⤓
Removable 908

10 – 22 g/m

2

Suitable for removable labels, ISEGA-certificate for direct food contact, high UV-resistance.

PDF ⤓