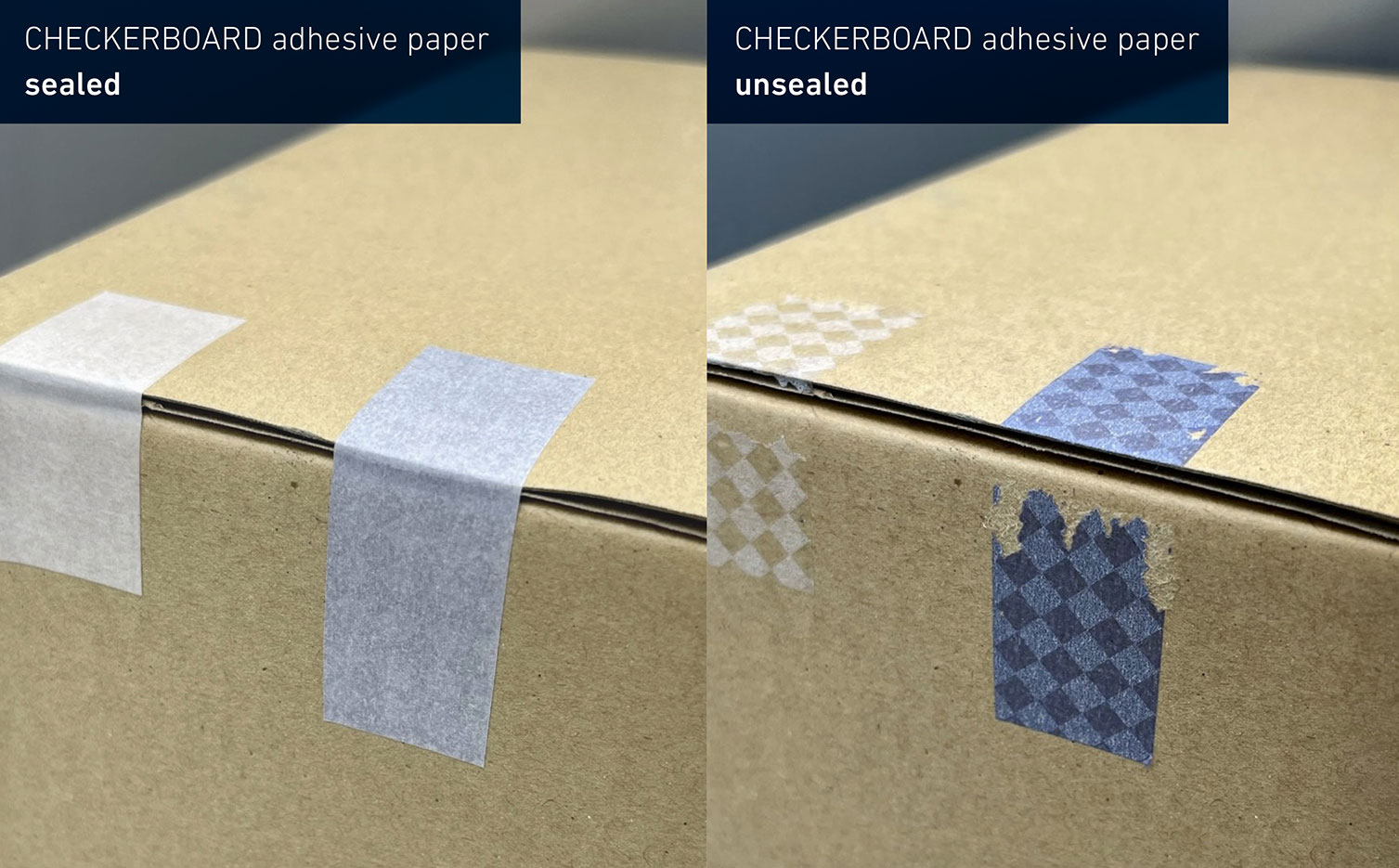 The Checkerboard adhesive paper can be equipped with transparent or colored adhesive (here blue).
HIGH REQUIREMENTS FOR SECURITY LABELS MET
VPF NOW PRODUCES CHECKERBOARD ADHESIVE MATERIAL FROM PAPER
April 2022
VPF GmbH & Co. KG from Sprockhövel presents a completely new adhesive material for tamper-evident labels. For the production of security material for label printing, the manufacturer now uses paper instead of film. With equally forgery-proof results: The checkerboard pattern known from security films is clearly visible after manipulation.
Up to now, security labels for first-opening, tamper and tamper-evident protection have mainly been made of film materials. Now VPF has succeeded in developing an adhesive material that also meets the high demands of the market when using a paper face material.
Special paper replaces film material
Any attempt at manipulation is impossible: The CHECKERBOARD adhesive paper (VPF 100328) leaves behind a white checkerboard pattern after opening, as previously only known from film labels. This is made possible by the use of a 60-gram special paper which, in contrast to previous solutions, remains clearly recognisable even on the detached label face. The non-adhesive checkerboard pattern on the substrate prevents any attempt of reattachment after being detached.
Adhesive can be dyed
The new CHECKERBOARD adhesive paper (VPF 100328) comes standard with adhesive 925 (22 gram application weight). The adhesive adheres perfectly even to difficult substrates such as cardboard or folding boxes. This makes the new labelstock suitable for the secure closure of pharmaceutical products, food and fast-food packaging or high-quality technology and cosmetic articles. It is also available with coloured adhesives on request. The CHECKERBOARD adhesive paper (VPF 100328) is available immediately from small minimum quantities of 200 m². A4 samples are available at any time.
About VPF
Since 1967, VPF has been supporting and shaping the European market for self-adhesive materials and coatings as an idea generator, partner and problem solver. Expertise and a strong focus on customer and market needs are the foundations on which the company develops innovative solutions. With state-of-the-art production facilities, dedication and flexibility, VPF turns these solutions into quality products for paper and film applications of all kinds.
Company contact
Kai Klimek
VPF-Veredelungsgesellschaft mbH für Papiere und Folien & Co. KG
Harkortstraße 14 – 16, 45549 Sprockhövel (Germany)
Phone +49 (0)2339 1205-40, kai.klimek@vpf.de
Press contact
Jürgen Sterzenbach
SINNDESIGN Unternehmenskommunikation
Hartblick 5, 51429 Bergisch Gladbach (Germany)
Phone +49 (0)2204 205443, vpf@sinndesign.de