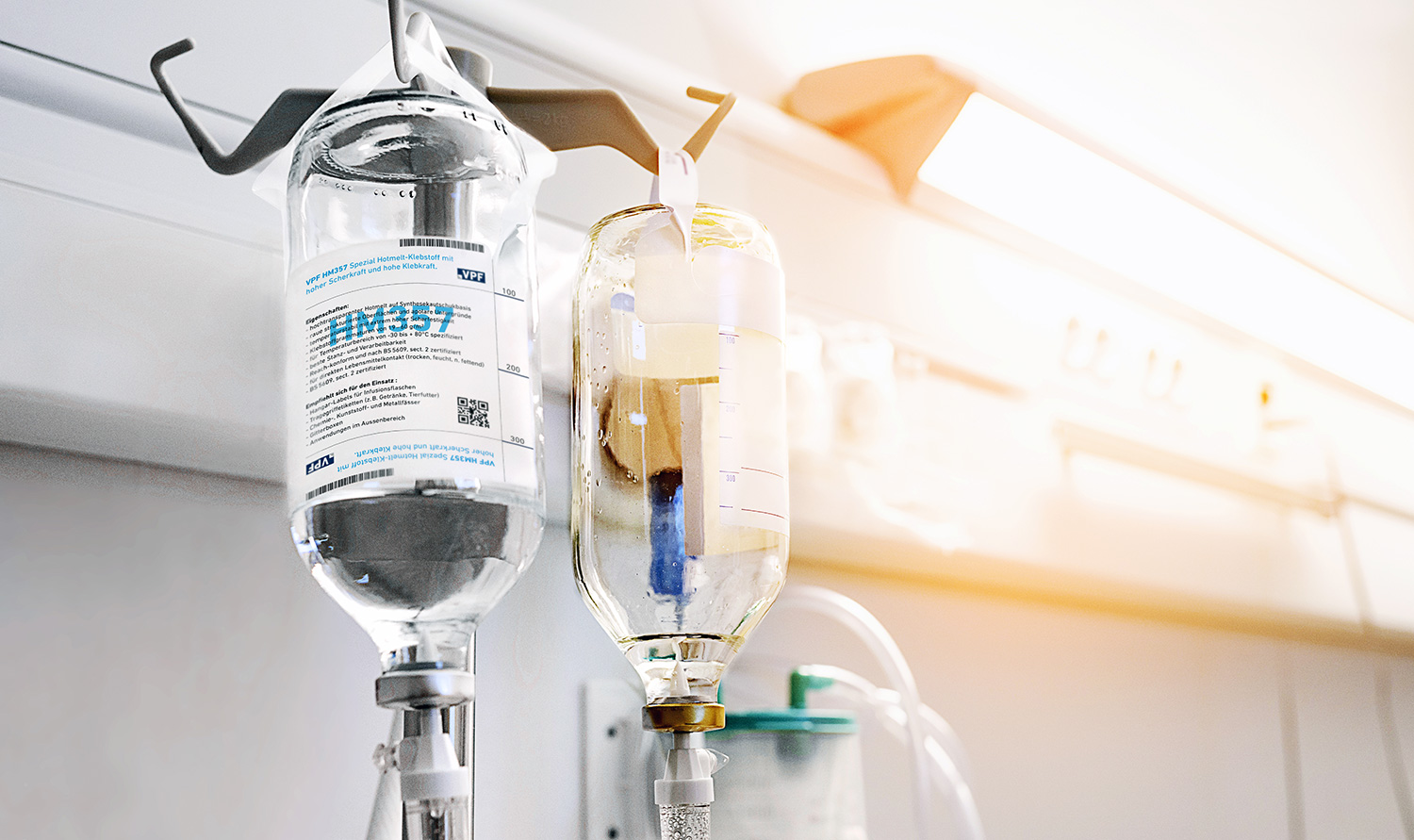 The innovative adhesive has excellent properties for hanger labels or rip-proof handle labels (Image: VPF/Adobe).
IDEAL FOR RIP-PROOF HANDLE APPLICATIONS AND HANGER LABELS
VPF PRESENTS AN INNOVATIVE HOT-MELT ADHESIVE BASED ON RUBBER
December 2020
The adhesive material specialist VPF is expanding its range of adhesives with a new, strongly bonding hot-melt adhesive based on rubber. The product, named HM357, is specially developed for applications that call for a high shear strength in combination with high adhesive strengths.
The highly transparent hot-melt adhesive based on synthetic rubber was brought to market maturity following an extensive series of tests. The focus of the long development work was on a special adhesive for handle applications and hanger labels. The result is compelling. The extremely high shear strengths for a hot-melt adhesive – more than 200 hours according to FTM8 for a coating weight of 30 grams – also ensure top die-cutting results and processability even with high adhesive grammages. The adhesive also exhibits very high values in initial adhesion: 21 N / 25 mm according to FTM9, measured on glass with an application weight of 30 grams in combination with a PP90 top film guarantee ideal labelling results even on difficult surfaces.
Especially on rough, structured and non-polar surfaces, the HM357 excels with its interplay of high adhesion and cohesion properties. The temperature range for the HM357 is specified at -30°C to +80°C, also making the adhesive significantly more temperature-stable than many conventional hot-melt label adhesives.
Ideal applications include rip-proof handle labels (such as for pet food or drinks packages) or hanger labels on which infusion bottles are hung vertically. The adhesive is also excellently suited to chemical drum labels on plastic or metal drums, lattice boxes or applications outdoors.
The HM357 adhesive is approved for direct contact with food on dry, moist as well as non-fatty surfaces, and is compliant with REACH and certified according to BS5609, Section 2. The highly-effective HM357 expands the proven VPF product range of rubber-based hot-melts, comprising the adhesives HM347 and HM371F.
The HM357 is now available with low minimum order quantities of 2,500 m². It is equally suitable for paper and film face materials. The possible adhesive grammages span a range from 19g/m² to around 60g/m².
About VPF
Since 1967, VPF has been supporting and shaping the European market for self-adhesive materials and coatings as an idea generator, partner and problem solver. Expertise and a strong focus on customer and market needs are the foundations on which the company develops innovative solutions. With state-of-the-art production facilities, dedication and flexibility, VPF turns these solutions into quality products for paper and film applications of all kinds.
Company contact
Kai Klimek
VPF-Veredelungsgesellschaft mbH für Papiere und Folien & Co. KG
Harkortstraße 14 – 16, 45549 Sprockhövel (Germany)
Phone +49 (0)2339 1205-40, kai.klimek@vpf.de
Press contakt
Jürgen Sterzenbach
SINNDESIGN Unternehmenskommunikation
Hartblick 5, 51429 Bergisch Gladbach (Germany)
Phone +49 (0)2204 205443, vpf@sinndesign.de