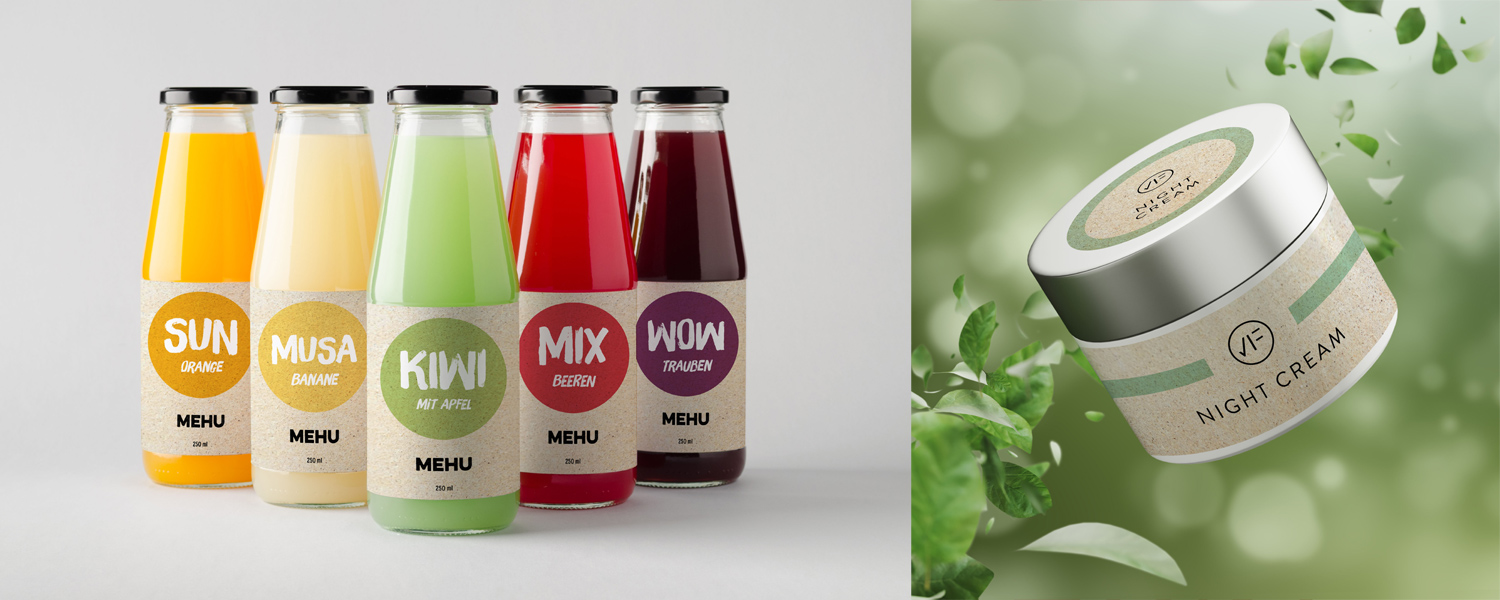 Image: Grass Paper Adhesive Material – The demand for environmental solutions for label printing is increasing noticeably. This corresponds to the new grass paper adhesive material from VPF. Grass grows several times a year and is particularly environmentally friendly in papermaking.
VPF LAUNCHES INNOVATIVE SELF-ADHESIVE MATERIAL
MADE OF GRASS PAPER
Sprockhövel, November 2018
Environment-friendly production, high-quality look
A whole raft of benefits can be expected from a new adhesive-coated labelstock made of grass paper – the latest ultra-sustainable addition to VPF's product portfolio. Thanks to its strong ecological appeal, this material is especially suitable for printing labels for upmarket products in the food, beverages and cosmetics industries.
Protecting the environment and conserving resources are key considerations for VPF when developing new self-adhesive materials. So it is especially gratifying to find innovative new paper grades that are produced using a readily available renewable like grass. The fresh fibre content in these papers up to 50 %. This provides a major advantage by slashing the required process water input during production. Simple mechanical treatment enables significant energy savings and, concomitantly, the reduction of CO2 emissions. Available in a grammage of 70 g/m², the grass paper is recyclable and compostable. It has been approved for direct food contact.
Available for both permanent and removable labels
VPF is providing the grass paper material with two different adhesives coatings as standard. For permanent-label applications the acrylic emulsion adhesive 958 is used. This grade is ideal for small diameters and a large variety of substrates. The multi-purpose adhesive has been approved for direct food contact. For removable labels, VPF employs the well established 987 adhesive. Removable without a trace from many different kinds of substrate, this adhesive too is based on acrylic emulsion. The adhesives were selected after extensive migration and ageing tests conducted in VPF's laboratories at its home plant in Sprockhövel, Germany. Grass paper 70 g (VPF 10916) can be easily printed using conventional printing methods. A4 samples and sample rolls are available as of now.
About VPF

Since 1967, VPF has been supporting and shaping the European market for self-adhesive materials and coatings as an idea generator, partner and problem solver. Expertise and a strong focus on customer and market needs are the foundations on which the company develops innovative solutions. With state-of-the-art production facilities, dedication and flexibility, VPF turns these solutions into quality products for paper and film applications of all kinds.
Company contakt
Kai Klimek
VPF-Veredelungsgesellschaft mbH für Papiere und Folien & Co. KG
Harkortstraße 14 – 16, 45549 Sprockhövel (Germany)
Phone +49 (0)2339 1205-40, kai.klimek@vpf.de
Press contact
Jürgen Sterzenbach
SINNDESIGN Unternehmenskommunikation
Hartblick 5, 51429 Bergisch Gladbach (Germany)
Phone +49 (0)2204 205443, vpf@sinndesign.de