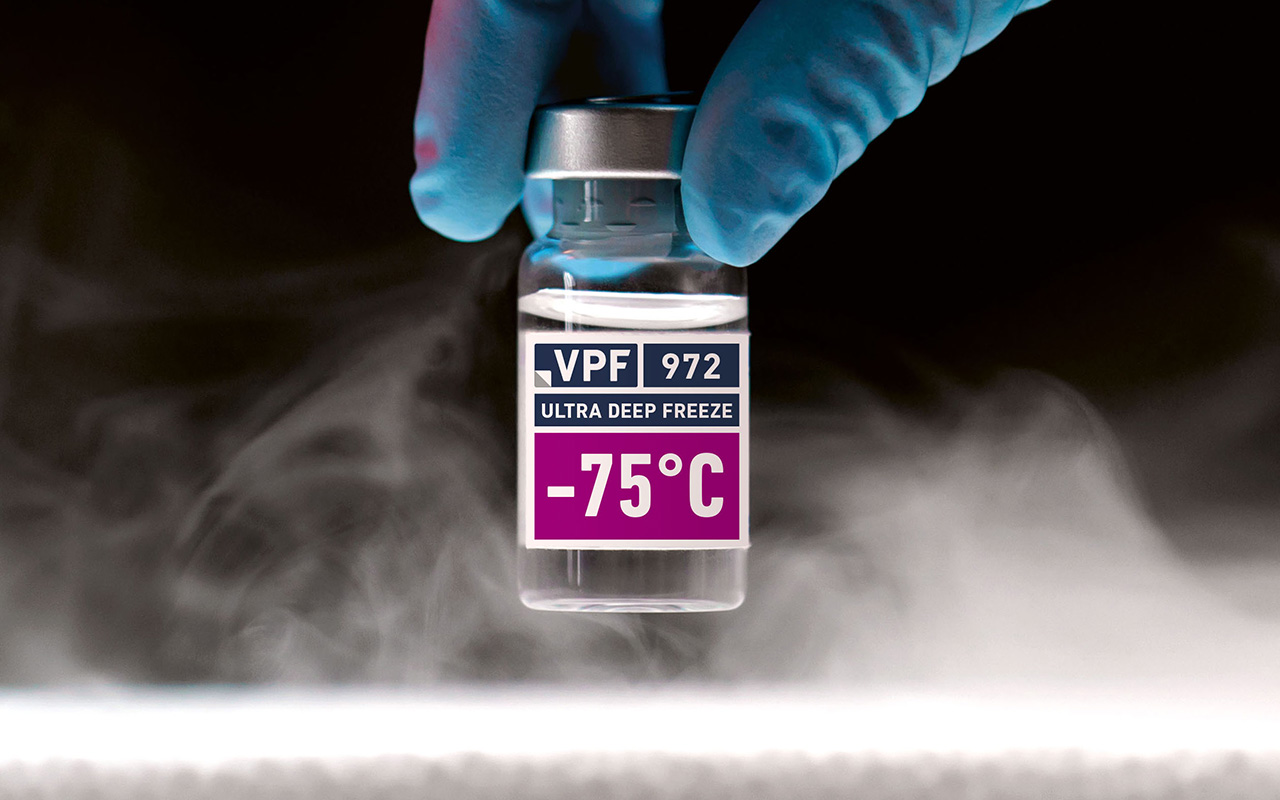 VPF 60659 PP white glossy with adhesive 972, 18 g/m2 after storage at – 75°C. (Image: VPF/Adobe)
SUITABLE FOR TEMPERATURES DOWN TO MINUS 75 DEGREES
VPF PRESENTS ULTRA-DEEP-FREEZE ADHESIVE 972 FOR DEEP-FROZEN VACCINES AND OTHER PHARMACEUTICALS
January 2021
Extreme cooling is absolutely essential for certain pharmaceutical products such as COVID-19 vaccines in order to guarantee their effectiveness. These logistical requirements also affect the packaging and labelling of containers. The adhesive specialists at VPF have launched the ultra-deep-freeze adhesive 972 onto the market for this segment. Tests demonstrate that it can be used in connection with suitable PP substrates for temperatures down to -75°C – ideal for the labelling of vaccine doses or syringes that have to be stored and transported in extremely low temperatures, for example.
VPF had the temperature stability of the highly transparent acrylate dispersion adhesive 972 vigorously tested by an independent institute. Glass vaccine doses with a diameter of 30 mm, featuring labels made from 60 µ white glossy PP material (VPF 60659) and coated with 18 g/m² of the ultra-deep-freeze adhesive 972, served as the test objects.
During the series of tests, the glass vaccine doses – labelled at room temperature – were exposed to temperatures of -75°C for a period of 72 hours and then warmed to +5°C over a period of 12 hours. The test results confirmed the temperature stability of the new adhesive 972, which still exhibited full adhesive and cohesion values. No brittleness in the adhesive or edge separation with the labels were observed at all.
Broad temperature range, suitable for a wide range of substrates
VPF specifies the temperature range of -75°C to +70°C for the adhesive, while the labelling temperature should be above -5°C. The low-migration adhesive is equally suited to substrates made from paper as well as film. It has ISEGA approval for direct contact with dry, moist and fatty foods with a correction factor of at least 3 (according to EU Regulation 10/2011). What's more, adhesive 972 can be used for labelling blood bags.
Adhesive 972 is available to order straight away in minimum quantities of 1,000 m² and in a wide range of substrate and liner combinations. For high-speed labelling, PET liners with easy release systems are also available. VPF will be happy to provide samples of all combination options at any time for the necessary tests on original substrates under original labelling and storage conditions.
About VPF
Since 1967, VPF has been supporting and shaping the European market for self-adhesive materials and coatings as an idea generator, partner and problem solver. Expertise and a strong focus on customer and market needs are the foundations on which the company develops innovative solutions. With state-of-the-art production facilities, dedication and flexibility, VPF turns these solutions into quality products for paper and film applications of all kinds.
Company contact
Kai Klimek
VPF-Veredelungsgesellschaft mbH für Papiere und Folien & Co. KG
Harkortstraße 14 – 16, 45549 Sprockhövel (Germany)
Phone +49 (0)2339 1205-40, kai.klimek@vpf.de
Press contact
Jürgen Sterzenbach
SINNDESIGN Unternehmenskommunikation
Hartblick 5, 51429 Bergisch Gladbach (Germany)
Phone +49 (0)2204 205443, vpf@sinndesign.de